The Front Lights Problem
| | |
| --- | --- |
| Several years ago my wife and I rescued a basset hound that was found walking along a country road in the middle of nowhere. We adopted her and brought her into our family, and the first stop was the Veterinarian. It turns out that the little girl, who we would name Bella, had a bad case of heart worms. We got her treated for that life-threatening problem, and then got her the necessary shots and she is now happy, healthy, and one of the most spoiled dogs in the world. I often wonder about her past - where she's been in her life and why she was out on her own. We'll never know, but that's okay... she's in our family now. | |
| | |
| --- | --- |
| | Not that I would ever compare our precious basset hound to an inanimate object like a golf cart, but there is a similar thing between them. We bought our 1998 cart from a friend a few years ago, making it 22 years old as I'm writing this. We don't know where our friend got it, or what the chain of owners was before that. It had a golf course sticker on it, so at one point in its life our cart was in use there. We cleaned it up, added a rear seat and a brush guard (just for decoration), and have slowly made it our own. |
One weird thing about our EZ-GO TXT golf cart is that the front lights were crooked - they were at a view askew (yep, snoogins). It was one of those things that I wanted to address one day, but since they worked, I wasn't in a hurry. Here's the way that the lights looked:

My friend the Chairman and I were replacing the steering box assembly on my cart a while back, and so we had to remove the front plastic shield. As it turned out, not only was it cracked, but one of the metal arms holding it up was buckled back. Obviously the cart had been in a wreck at some point, which was obviously before I put the brush guard on the cart, or before I even purchased it. Although the incident didn't hurt the body, it obviously pushed the light assembly back, cracked the front plastic shield, and even bent the metal arm that held the shield in place.

I found the exact part that I needed - the front plastic shield - on BuggiesUnlimited.com. The price was under thirty bucks, so that made it a fairly painless repair. I ordered it, and it was in my hands in under a week. In the photo on the right, the new part is on the left, and the cracked one on the right.

Since we were in the Chairman's shop, he was able to bend the metal support arm back into its original shape, and we installed the new front plastic shield without a problem.
Next came the issue of the lights. Since the cart has an after-market brush guard on it, the Chairman fabricated a metal plate to fit behind part of it to use as a mounting surface for the new lights (it would be much stronger than the plastic shield). He had it finished in just a few minutes; you should see the Chairman's shop - it's like Willie Wonka's Chocolate Factory, except for grown people. It has every tool imaginable, and then some.

I'd heard that WalMart had a selection of LED lights for motorized vehicles, so I went there and after studying the various options, chose the Alpena SpotFire (Part #77726). It has 16 LEDs and 1500 lumens, so I bought two of them for twenty-something bucks each.
The lights came with all the mounting hardware, making them easy to mount on the metal plate that we'd installed. The lights required 12V DC, so I tested the old wiring harness to the old lights and found that the two leads each provided exactly that, so I only had to change the connectors and plug the lights in. Voilą - they worked great!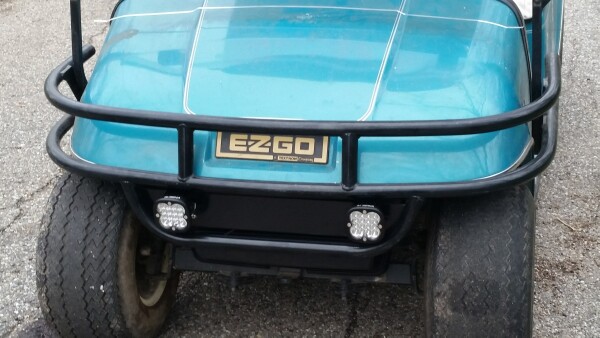 Although I have no idea about where or when the cart was wrecked way back in its past, the lights are fixed and it is fine now. All's well that ends well, I suppose.
Happy carting,
The Psychic