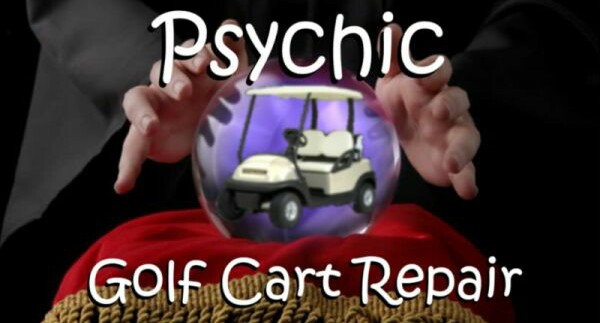 So what is this website all about? Golf carts! And to be more specific, elecric golf carts. But to find out more, follow our links and read our stories... and check back, 'cause we'll be adding more info as time goes by.
What's this website all about?
Psychic stuff and the woodgrain dash.
Check your freakin' battery water!
The Chairman's Lesson in Electrical 101.
Determining A Golf Cart's Year Model.
Testing & replacing a solenoid.
What the heck is a deep-cycle golf cart battery?
Examples of Golf Cart decorating for Mardi Gras
The Steering Goes Away on my EZ-GO TXT Cart
The front lights are askew on my Cart!
Golf Cart Forward/Reverse Problems
Installing A Lighted License Plate Holder
Contact Psychic Golf Cart Repair.
Disclaimers: Please don't follow our advice - we're not experts. Your mileage may vary. Objects in the mirror are closer than they appear. Everybody have fun tonight, everybody Wang Chung tonight. The appearance of external hyperlinks does not constitute endorsement by the Department of Agriculture of the linked web sites, or the information, products or services contained therein. This website is not a complete or accurate map of the world and should not be used in such a manner that deficiencies, omissions, inaccuracies or errors could result in death, loss or injury. Liquor on beer, have no fear, beer on liquor, never sicker. Knock three times on the ceiling if you want me. I'm growing older, but not up. Now the whole damn bus is cheerin', and I can't believe I see, a hundred yellow ribbons 'round the old oak tree.